Justice Scores for Wishes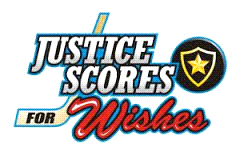 Upcoming Justice Scores For Wishes Events!
Live Auction:
When: Saturday April 8th   12PM-3PM ($5 a paddle)
Where : Old Port Pub, corner of Windmill Road and Akerley
Justice Hockey Tournament and Social
Featuring Sheriff Services, Correctional Services and HRP
When: Saturday April 8th 5PM -12AM for the tournament and lounge
Where: Dartmouth Sportsplex
West Jet Tickets and 50/50 on Sale Now!!
JSFW 20 17 Auction List
Autographed Duncal Keith 8×10 framed with NHLPA hoodie and sweatshirt and Duncan Keith Action Figure
$500 Gift certificate towards prescription eye wear
Hop, Skip, Jump birthday party
Capture Escape voucher, for up to 8 people
Timber Lounge, 4 passes plus a carved chair and t-shirt
Scotia Speed World 2 packages of 2 adults plus 2 youth
Dartmouth Crossing Package: Best Western Hotel Burnside one night stay, Get Air 2 passes, with food vouchers
Kartbahn , 2  passes
Digby Pines Golf Package
Molson Beer fridge
Ns International Tattoo tickets with Durty Nelly's gift card
Signed Anotnio Brown football
Signed 8 x 10 Rob Gronkowski framed
Signed 8 x 10 Julian Edleman framed
North Brewing Growler fill up
$500 Gift card towards Canada Dream RV Rental
Mitch Marner signed maple leafs jersey in a Shadow Box
Auston Matthews signed All Star Game puck
Canadian tire items
TJ Grant private training session
Labatt Beer Tour (up to 50 people)
Jean Beliveau Signed 8 x 10 Framed
Carey Price signed 8 x 10 Framed
Patrick Roy signed 8 x 10 Framed
Signed 8 x 10 Ray Bourque Framed
Signed 8 x 10 Cam Neely Framed
Signed 8 x 10 Dustin Pedroia Framed
Signed 8 x 10 Sidney Crosby Framed
Signed 8 x 10 Nico Hischier Mooseheads Framed
Holly DeCoste Photography Photo Session (Family, Newborn or Engagement)
One blue fish photography $500 off wedding package for 2018
Jeremy Swiminer Art Piece
Theo Fleury signed book
Fog Off clothing pack
Tattoo voucher
Casino NB night for two plus buffet
Andew Shaw Signed NHL Hat
Forest Lakes Country Club, round of golf for 2 and a swag bag (course opens 2019)
Oak Island night stay with tour
one hour shoot for two , 9mm pistol and 100 rounds from Hnatiuks Gun Range
Trip for two on Via rail from points between Halifax and Montreal

More Auction Items still to come!!!