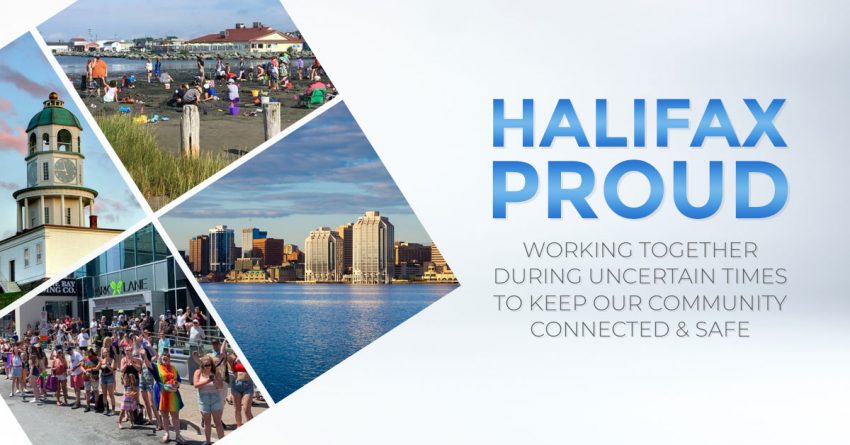 Halifax Proud
All of the staff at FX101.9 & 89.9 The Wave are proud to be working alongside our business partners and community to help in any way during this uncertain time.
KENT
We remain open to serve our customers for their essential home repair and maintenance needs. For up to date information on store hours and what Kent is doing to ensure the safety of our associates and customers, please visit kent.ca
Polytech Window & Doors
Polytech Products continues to produce European Tilt/Turn Style Windows and Garden Doors at our Baddeck Nova Scotia Factory. Although our showroom, on Williams Avenue in Dartmouth, is currently closed to walk-in traffic, we are available by appointment for delivery and pick-up. We are here to serve you over the phone and email. We have adhered to all government standards to keep both our valued clients and staff safe during this time.
Apple Auto Glass
We are working reduced hours. We are working with reduced staff. We have closed our showroom and waiting area. We encourage customers contact us via phone or email for enquiries and to make an appointment. We have implemented stringent processes for vehicles to protect ourselves and our customers.
Rainbow Net & Rigging
During these very challenging times, we are here hoping to comfort some of your needs. Our doors may be tight but our staff is here to assist you. Hours of operation remain the same 8 to 4:30 Monday to Friday. Our website is offering free shipping on orders $125 and over. Please Keep Safe!! Wishing you all the best, Rainbow Net & Rigging Ltd. 49 Trider Crescent Dartmouth 902-468-7503.
O'Regan's
At O'Regan's the safety of our customers, team, and our community is our top priority. We are continually monitoring the situation and responding based on the guidance of our governments, public health authorities, and medical professionals.
We know that access to transportation is a necessity for many of you during these challenging times.
Our team is available to assist with any service, parts, and sales, or finance needs that you may have in the days and weeks to come.
We have reduced our hours of operation in response to COVID-19. To view the hours of operation for each of our locations please visit https://www.oregans.com/contact/locations/
We wanted to share the added measures we have taken to provide a safe and clean environment for your visit:
• We have implemented enhanced cleaning procedures at each of our dealerships for our staff and cleaning team
• We are following guidelines relating to social distancing practices (2 metres)
• Members of the team who are in travel related quarantine will not be returning to work until their quarantine is completed.
To protect yourself and others, if you are not feeling well, or if you or someone you live with is in quarantine, travel related or otherwise, please refrain from visiting us altogether so that together we can ensure a safe environment for everyone. We will be happy to service your automotive needs after your quarantine has been completed and when you are feeling better.
Vogue Optical
Vogue Optical's highest priority is the health and safety of our patients, customers, employees, and professionals, and we are committed to supporting worldwide efforts to prevent the spread of the virus.
To contribute to limiting the spread of COVID-19, the majority of our stores will be closing until further notice. We are committed to continuing to do our part in taking care of your vision. We will be having select stores open with limited hours in order to provide emergency eyewear services only.
The most effective way to minimize risk of the virus's transmission is to reduce density and maximize social distance. As rates of new infections continue to grow, we're taking these steps to protect our team members and customers.
We want to thank our extraordinary retail teams for their dedication to our customers.
EMERGENCY EYE WEAR SERVICE IS CURRENTLY LIMITED TO ONE STORE IN HALIFAX/DARTMOUTH, MONDAY TO FRIDAY, 12-5
Woodlawn Center 114 Woodlawn Road
Dartmouth, NS
Phone: 902-434-3232
For all other locations please call our emergency line or email us as per below.
EYE WEAR EMERGENCY LINE: 1-866-594-3937
Monitored, Monday to Friday 8am-4pm.
Best Friends Pet Supplies
Offering curbside pick-up to customer. To order contact Best Friends to prepare your order and your order will be placed in your vehicle. The store is following all safety protocols set out, including sanitizing all high volume areas, doors and pin pads , social distancing and limiting the number of customers to 3 at a time. Store hours are reduced to closing at 3pm, Monday & Tuesday & Saturday, closing 5pm Wednesday to Friday, Sunday 10-4.
Tomavo Fruits Bedford
Offering curbside pick-up to customer. To order contact TOMAVO thru FaceBook to prepare your order and your order will be placed in your car. hours for Bedford are 8:30-8:30 Monday-Saturday and Sunday 10-7 . The 1st hour for seniors and the most vulnerable . The store is following all safety protocols set out, including social distancing and limiting the number of customers at a time.
The Berkeley
The Berkeley is committed to maintaining the health and safety of both residents and employees during this pandemic. In unprecedented times like these, we recognize the importance of working as a team, more now than ever, and we are ready to adapt to the rapidly changing circumstances. Our leadership team meets every morning via ZOOM followed by regular discussions throughout the day to stay informed about what is happening in each of our buildings as well as the local, national and global communities. Our position is fluid and we are making ongoing changes in anticipation of and in response to all suggested best practices to minimize the risk of spread of COVID-19. The Berkeley will continue to monitor the recommendations from the Public Health Agency of Canada, and local government agencies.
Happy Harry's
• Online shopping at happyharry.com
• Maintaining social distancing and sanitizing work areas regularly.
• Call store for hours
Building or renovating? See Happy Harry's first for great products at a great price. We have a huge in-stock selection of the latest building supplies with new inventory arriving daily. We encourage social distancing, hand washing and also want to salute our first responders and medical personal.
BIG Leagues in Dartmouth / Cole Harbour
920 Cole Harbour Rd
Now offering delivery service to the Dartmouth and Cole Harbour communities,
Available Monday to Thursday: 3PM to 8PM.
Available Friday and Saturday: 3PM to 10PM
Alcohol can now be purchased along with your meal! Check out www.bigleagues.ca for Menu Specials.
And of course, once this crisis has passed we will resume our usual good food, good drinks and good times!
Royal Nova Scotia International Tattoo
Support the Tattoo by purchasing tickets for the Play Together, Win Together Online 50/50 –all proceeds support the Tickets for Veterans Program and the triumphant return of the Royal Nova Scotia International Tattoo in 2021! 3 for $20 / 10 for $50 / 30 for $90. https://nstattoo.ca/50-50/
Help support the Tattoo by purchasing gift certificates and other Tattoo merchandise. Makes a great gift! https://shop.nstattoo.ca/
OK TIRE (Dartmouth, Halifax, Hammonds Plains & Elmsdale)
WE ARE OPEN. We provide an essential service to those that provide invaluable services on the front line. We will do our best to keep your vehicles working during these tough times. We make appointments for vehicles to. You can drop your keys in the drop box and make payments over the phone. Our shuttle service and customer waiting area is not available.
Our number one priority at this time is the safety of our valued customers and teammates. We would like to assure you that we are taking all the appropriate measures at our location to ensure that we maintain the highest level of service that you have come to expect from us here at OK Tire.
Our techs wear neoprene and or latex gloves when entering your vehicle. Our policy is to disinfect any areas of the interior cabin of your vehicle that we come in contact with before returning the vehicle back to you.
Stay safe and take care.
Credit Counselling Services of Atlantic Canada
At Credit Counselling Services of Atlantic Canada, we understand Canadians are facing some unprecedented and challenging times. We want to assure you we are here to support you – now and in the future.
Our offices remain open, offering Telephone counselling sessions, so we can continue to offer support to individuals during this difficult time.
Our hours of operation are Monday to Friday 9am-5pm. Please give us a call at our toll free 1-888-753-2227 or visit our website at www.solveyourdebts.com