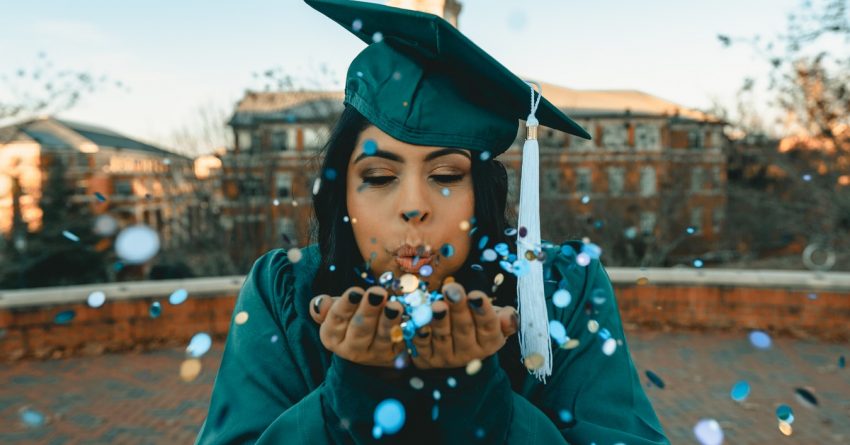 Virtual Graduation Ideas to Celebrate the Class of 2020
We have a member of the family who is in the Class of 2020, so I know firsthand what a BUMMER this year is to them!
The lockdown may have canceled any formal graduation ceremonies, but you can still make your graduate feel special with these virtual graduation party ideas.
Graduating from high school, college, or graduate school can be one of life's most memorable and rewarding milestones. That's why virtual graduation celebrations are so important right now.
1 – HAVE A FACETIME DINNER PARTY
If you love a good dinner party, consider ordering in a fancy meal right to your door.  Many restaurants that don't normally deliver are offering this service.  All you have to do is break out the fancy flatware and tablecloth.
If there's one other family or household you really want to celebrate with, send them a fancy invitation and then set up a Zoom or FaceTime call to toast and eat together during dinner. It'll feel (almost) like a fancy dinner out to celebrate the party guest of honor's graduation.
2 – CREATE A SPECIAL POWERPOINT PRESENTATION
Have the graduate's extended family and friends send in videos with well wishes or photos of their favorite memories and put them all together in a PowerPoint presentation. It's an easy thing to surprise someone with during a Zoom call, and it feels incredibly special.  (hilarious baby photos are encouraged).
3 – SEND YOUR GRAD CUSTOMIZED COOKIES
Since most high school graduates aren't exactly game for fancy dinner parties or Zoom calls with each and every distant relative, this could be a great way to make them smile.  A quick Google search will reveal custom cookie companies that deliver (via courier) in HRM.  Give 'em a call!
4 – HAVE FRIENDS & FAMILY DONATE TO A SPECIAL FUND
Pick a place the graduate has always wanted to go and plan a themed Zoom party around it. If the person has always wanted to go to Italy, send them a homemade pizza kit or a pasta dinner. Play Italian music and make your Zoom background Italian scenes. Then, at the end of the call, tell them that you've all chipped in to start an "Italy vacation" fund for them for whenever travel is able to happen again. Having something to look forward to is always a good idea, right?
5 – SEND BALLOONS
There are still a lot of companies that provide this service in HRM.  As with the cookies, book them well in advance as you're probably not the only person with this idea
6 – HAVE A CELEBRITY CONGRATULATE THEM
Does your grad have a certain celebrity who they're obsessed with? If you plan ahead, you might be able to find their favorite reality television star or sports star on Cameo and book them. You can tell them to congratulate the graduate and then surprise them with it. Just make sure you can see their face when they watch the video message!
7 – PICK A DATE IN THE FUTURE FOR A REAL-LIFE CELEBRATION
Sometimes virtual celebrations just don't cut it, but it's still important to recognize graduations in real time. One way to recognize both those facts is to plan a real-life celebration far, far in advance if you can't have one right now. Send out those fancy invitations and tell people to save the date for a celebration at a later date.
CONGRATULATIONS CLASS OF 2020!
It's not what you expected, but this is history in the making. I GUARANTEE you'll be talking about it for the rest of your life!