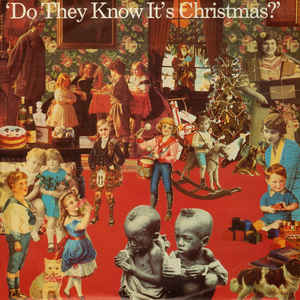 The Story Behind "Do They Know Its Christmas"
Thirty-five years ago, on this very day, Band Aid released "Do They Know Its Christmas".  The song has become a radio standard at this time of year, but did you know the history behind it?
In October 1984, Boomtown Rats singer Bob Geldof watched a BBC News documentary about the Ethiopian famine… he was horrified!   A week later he bumped into an old friend, Ultravox frontman Midge Ure, who was just as troubled by what he had seen on the report. The men decided to channel their outrage into a new charity single.
Geldof made some calls to the British pop community.  Sting was in, Simon Le Bon immediately said 'Tell me the date and we'll clear the diary'; Spandau Ballet's Gary Kemp was just about to  tour Japan and asked if they could wait 10 days until he got back. Geldof and Ure used that time to call everybody else …and to come up with a song.
Recording an old standard would cost royalties and eat into the proceeds, so they adapted a semi-complete tune Geldof had written for the Boomtown Rats, tentatively titled "It's My World." Following a yuletide overhaul by the pair, the result was "Do They Know It's Christmas?" — a song to, in Ure's words, "touch people's heartstrings and to loosen the purse strings."
The group of recent U.K. chart toppers met at the studio on November 25th.  The verses were sung by Paul Young, Boy George, George Michael, Le Bon, and Bono, while the "Feed the world" chorus featured Geldof, Ure, David Bowie, Phil Collins, Paul McCartney, Status Quo, Bananarama, and many others. The singers learned their lines on the spot with the help of a demo tape Ure prepared.  Bono was not pleased with having to sing "Tonight, thank God, it's them instead of you" as he thought it sounded rather selfish, but he was a team player (and still relatively young) so he belted it out!  The line became one of Ure's favorite parts of the song. "I had originally sung it on the guide vocal an octave lower, and he just decided to let it rip, and it was phenomenal"
The vocal track was completed in one marathon 24-hour session, and — amazingly — in the store just days later, credited to "Band Aid." Thanks to a massive publicity campaign, an incredible video of the session and an hourly push on BBC radio, "Do They Know It's Christmas?" shot to number one in the U.K., where it remained the biggest selling single until Elton John's "Candle in the Wind 1997."
In addition to the tens of millions of dollars it raised worldwide for Ethiopian famine relief, the song helped sew the seeds for Geldof and Ure's Live Aid concert the following year.
Here's a list of the musicians in Band Aid
(thanks to Wikipedia for the links)