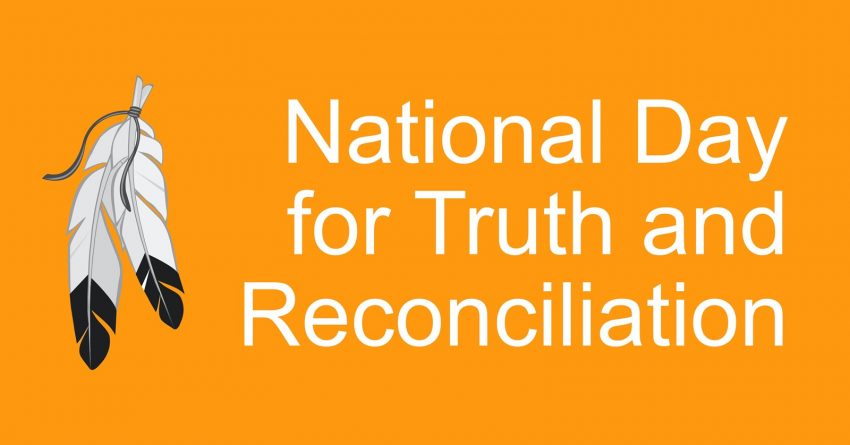 NATIONAL DAY FOR TRUTH AND RECONCILIATION – WHAT'S ON, WHAT'S OPEN, WHAT'S CLOSED
September 30, 2021 marks the first National Day for Truth and Reconciliation.
The day honours the lost children and Survivors of residential schools, their families and communities. Public commemoration of the tragic and painful history and ongoing impacts of residential schools is a vital component of the reconciliation process.
Both the National Day for Truth and Reconciliation and Orange Shirt Day take place on September 30.
Orange Shirt Day is an Indigenous-led grassroots commemorative day that honours the children who survived Indian Residential Schools and remembers those who did not.  This day relates to the experience of Phyllis Webstad, a Northern Secwpemc (Shuswap) from the Stswecem'c Xgat'tem First Nation, on her first day of school, where she arrived dressed in a new orange shirt, which was taken from her.  It is now a symbol of the stripping away of culture, freedom and self-esteem experienced by Indigenous children over generations.
On September 30, all Canadians are encouraged to wear orange to raise awareness of the very tragic legacy of residential schools, and to honour the thousands of Survivors.
It is a Federal statutory holiday.
All federal offices including banks, are closed. 
The Province of Nova Scotia will annually recognize National Day for Truth and Reconciliation.
Provincial government offices will be closed, including courthouses across Nova Scotia.
Any Provincial Court, Youth Court or Night Court matters that were previously scheduled for Sept. 30 are in the process of being adjourned and rescheduled.
Public schools and regulated child care will be closed.
Businesses will have the choice, as they do on other occasions, to remain open.
The Halifax Regional Municipality will annually recognize National Day for Truth and Reconciliation.
Halifax City Hall will be lit orange on Wednesday, Sept. 29. The municipality will also be hosting a flag raising on Thursday, Sept. 30 at 5:30 p.m. at Grand Parade, featuring remarks by Mayor Mike Savage and Acadia First Nation Chief Debra Robinson. This will be followed by a Grand Oasis Stage concert featuring Indigenous artists.
The Mi'kmaw Native Friendship Centre is holding a "Weekend of Reconciliation on the Waterfront" at the Sands at Salter urban beach area in Halifax from Thursday to Oct. 2. The weekend is to include crafts, a traditional salmon dinner and live entertainment.
The National Centre for Truth and Reconciliation is putting on a series of virtual events beginning Monday. Topics are to include treaties, land claims and unceded territories, language and culture, and truth and reconciliation. Videos can be seen on the website nctr.ca.  
 Further, the municipality is advising residents of the following service level adjustments as a result of National Day for Truth and Reconciliation.
Solid Waste Collection and Facility Hours
No municipal solid waste collection will take place on Thursday, Sept. 30.
Curbside collection of garbage, organics or recyclables normally scheduled for Thursday, Sept. 30 will occur on Saturday, Oct. 2. Residents are reminded that collection service can begin as early as 7 a.m. Please place your materials curbside the evening prior in order to ensure collection.
The Otter Lake Waste Management Facility and Municipal Recycling Plant will be closed on Thursday, Sept. 30, but will be open for regular service on Saturday, Oct. 2.  The Household Special Waste Depot will be closed on Saturday, Oct. 2, but will be open for regular service on Saturday, Oct. 16.
For more information, click here. 
Halifax Transit Bus and Ferry Services
Halifax Transit buses will be operating on holiday service on Thursday, Sept. 30.
The Alderney Ferry service will run at half-hour frequency on Thursday, Sept. 30 – the first crossing will depart the Alderney terminal at 7:30 a.m. and the final crossing will depart the Halifax terminal at 11:45 p.m. There will be no Woodside ferry service on Thursday, Sept. 30.
For all bus and ferry schedules, click here. 
Recreation Facilities, Programs and Services
Most municipal recreation facilities will be closed on Thursday, Sept. 30. Residents are advised to call ahead to their respective facility for additional information. Contact information for municipal recreation facilities is available online.
Residents are reminded they may continue to use REC at Home which offers a variety of activities that you can enjoy with your family – from arts and crafts, to at-home workouts.
Parking
Paid on-street parking will be free on Thursday, Sept. 30 via pay stations and the HotSpot app. Motorists are reminded to abide by other posted signage, including accessible parking and no-stopping zones.
Customer Contact Centres
The 311 Contact Centre will be operating regular hours on Thursday, Sept. 30 from 8 a.m. to 8 p.m.
Customer Service Centres that provide in-person access to municipal services and payments will be closed on Thursday Sept. 30 and will reopen for regular business hours on Friday, Oct. 1.
~ Jamie