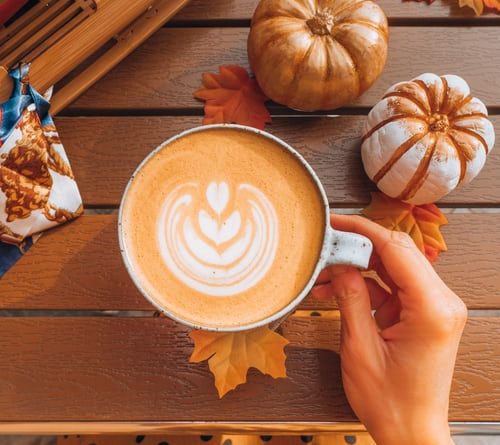 HOW A PUMPKIN SPICE LATTE AFFECTS YOUR BODY
WHAT REALLY HAPPENS TO YOUR BODY WHEN YOU DRINK A PSL?

It's pumpkin spice latte season — and someone had to go and ruin it.  That someone is Cosmo magazine. Here's what Cosmo says happens to your body when you drink a PSL:
In 10 to 15 Minutes – The 12 teaspoons of sugar you just drank (about 3 more teaspoons than the amount of sugar in a 12-ounce can of Coke) begin to raise your blood sugar, but the 14 grams of fat from the milk and whipped cream slow the spike, so you don't feel as hyped up as you would after drinking a can of regular soda.
In 15 to 20 Minutes – Your blood sugar continues to rise. This triggers the release of insulin, which helps your cells convert sugar into energy. If you ate a doughnut, muffin, or cookie with your PSL, chances are your cells are already full of sugar, which might make your body store the sugar you drank as fat. You should be feeling preeeetty energetic, especially now that the stimulating effects of caffeine begin to kick in.
In 20 to 30 Minutes – As your body absorbs the fat you've consumed, fat particles (aka triglycerides) enter the blood stream. Over time, high triglyceride levels can clog your blood vessels, raise bad cholesterol, and lower healthy cholesterol, all of which can increase your risk of heart disease. If you're healthy and generally eat nutritious foods, no big deal — the effects will be short-lived. But if you are overweight, smoke, eat garbage all the time, have a family history of early heart disease, rarely exercise, or have any other risk factors, the amount of sugar and fat in just one PSL can actually threaten your heart health.
In 45 to 60 Minutes – The caffeine you drank is finally absorbed by the stomach. The average person won't feel jittery because of the low caffeine dosage. As the fat continues to pulse through your system, your blood vessels might struggle to fully dilate or expand the way they need to, which can promote potentially dangerous blood clotting in anyone who's not the picture of health.
In 3 to 4 Hours – Your blood sugar has dropped and the fat you drank has left your stomach, so you start to crave calories that don't come in a cup.
~ Jamie
(source:Cosmo)