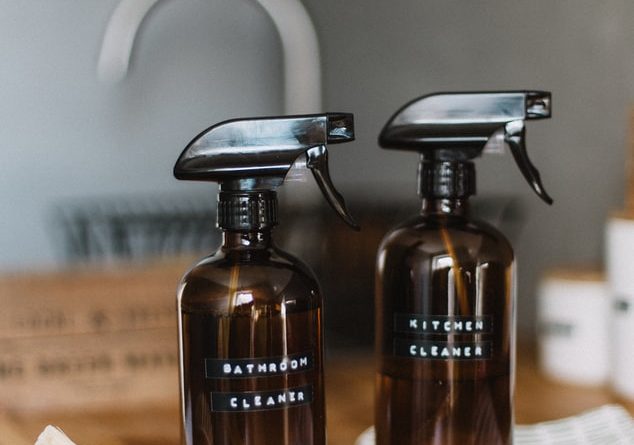 HACKS USING HOUSEHOLD ITEMS
Use A Rubber Band To Remove Stripped Screws
Place a rubber band over the head of the screw before trying to remove it with a screwdriver. That will add extra friction, allowing you to remove that stubborn stripped screw with ease.
…………………..
Patch Nail Holes With A Bar Of Soap
This is yet another simple trick to easily fill those unsightly nail holes in your walls. Rub a basic bar of white soap in a counterclockwise circular motion over the hole. If the soap leaves a little residue on the wall, just use a warm wet cloth to wipe it off.
………………
Quiet Squeaky Floors With Baby Powder
If you have a few squeaky floor boards, it's probably because pieces of wood are rubbing together. To fix the issue, try filling a small squeeze bottle (such as the kind you'd get with an at-home hair dye kit) with baby powder. Squeeze the powder in between the boards, and then use a makeup brush to push the powder down in the crack.
…………………………….
Clean Grout With Toilet Bowl Cleaner
Apply toilet bowl cleaner to the grout and let it sit for 15 minutes. Then scrub with a small cleaning brush or toothbrush. Finally, mop the area with warm water and prepare to be amazed.
……………………
Got Leg Cramps? Try Sleeping With Soap
While this isn't quite a home repair hack, it is a home remedy that many people swear by. And like many home remedies, it's one that science can't quite prove or explain. The problem? Cramping or restless legs disrupting your sleep. The fix? Placing a bar of soap under your fitted sheet. Experts guess that the reason this works may be due to the placebo effect — or possibly due to the presence of magnesium in soap. There isn't consensus about which type or brand of soap works best, so you may want to test out a few different bars to find out which one (if any) works for you.
…………………..
Treat A Smelly Garbage Can With Bread And Vinegar
Even if you line your trash cans with bags, chances are they'll start to smell after awhile. One easy fix is to pour vinegar over a slice of bread, then drop into the bottom of your trash can overnight. Remove it the next morning before you put in a fresh garbage bag and see if you notice the difference! Try adding a paper towel or sheet of parchment paper underneath the bread for easier cleanup.
…………………………
Drill A Hole In Your Trash Can Liner To Fight Suction
If you have a trash can with a liner in your kitchen, you know the pain of trying to remove a full bag without it tearing and garbage spilling everywhere. Combatting the suction generated between the bag and liner can help. All you need to do is drill a hole into the side of the plastic liner and voila! Suction solved. It's important that you drill the hole on the side of the plastic liner and not the bottom so that your liner can still contain any leaks that may occur.
…………………
Use Aluminum Foil:
-Make A Funnel
No funnel? No problem. Form foil into a cone shape and problem solved!
-Remove Rust
Another nifty use of aluminum foil is clearing rust off of a chrome surface. Merry Maids cleaning service recommends cleaning the surface first with a microfiber towel and soapy water, then dipping your aluminum foil into clean water before rubbing it on the rust.
………………….
Prevent Doors From Rattling Or Slamming With A Cabinet Door Bumper
It's amazing how the simplest things can have such a big impact—and this little hack is a prime example. By placing an inexpensive cabinet door bumper on the doorjamb, you can prevent a door from rattling or slamming. The same goes for drawers that slam closed.
……………………..
Prevent A Door From Shutting With A Rubber Band
If you're doing something such as bringing in groceries, let a single rubber band lend you a hand. By looping it over both sides of the door knob, it will be in the perfect place to prevent the door from latching.
………………….
Treat Carpet Dents With Ice Cubes
Place an ice cube on the dented area of your carpet and let it melt. As the water is absorbed into the carpet, it should start to spring back to normal. After the carpet is completely dry, use a hard-bristled brush to fluff any areas that are still dented.
………………..
Give Your Shower Head A Vinegar "Bath"
Remove mineral deposits and other grime from your shower head by simply soaking it overnight in vinegar.
~ Jamie
(source:Internet)