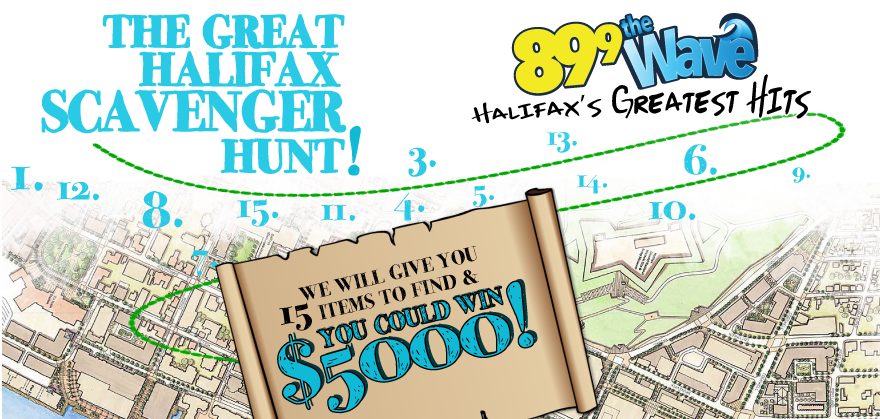 Congratulations to our Scavenger Hunt winners!  
Prize money will be distributed to the participants(s) who collect the most items from the 15 item list. In the event of a tie, the prize money will be evenly distributed. In the case of multiple participants who are part of a team/group, the team/group counts as 1 participant.
The following people/teams collected all 15 items on the list:
Note: Teams are represented by one of the team members that registered the items.
Robyn Fitzgerald
Sheri Kenny
Stefanie Shute
Wendy Myatt
Julia Rook
Ellen Lynch
Cindy Morash
Penny Abraham
Trista Hix
Leslie Allan
Steven Beeler
Marnie McNally
Gail Gardina
Sharon MacDonald
Miranda Hattie
Cindy Fitzgerald
Nicholas Gavel
Tanya Welton
Karen Higgins
Corinne Gillespie
Andrea Clark
Gloria Theriault
Linda Bell
Denise Blackler
Pearl Gallant
Eric Bona
Kelly Baker
Tricia Scott
Tina Dunphy
Angela Khan
Kimberley Parsons
Peggy MacMullin
Jessica Colburn
Amy Jollimore
Jonathan Roode
Emily Miller
Roberta Heaslip
Lisa Mitchell
Alan Smith
Diane MacKenzie
Joanne MacLean
Gerald Clarke
Stephen Heckman
Darlene Adamson
Beverley Anstey
Anne Rideout
Karen Roberts
Kim Oakley
Lesa Turple
Brenda Butler
Tanya Dalton
Congratulations to our hunters!  A great effort by all!  Thank you to everyone who participated in The Great Halifax Scavenger Hunt!