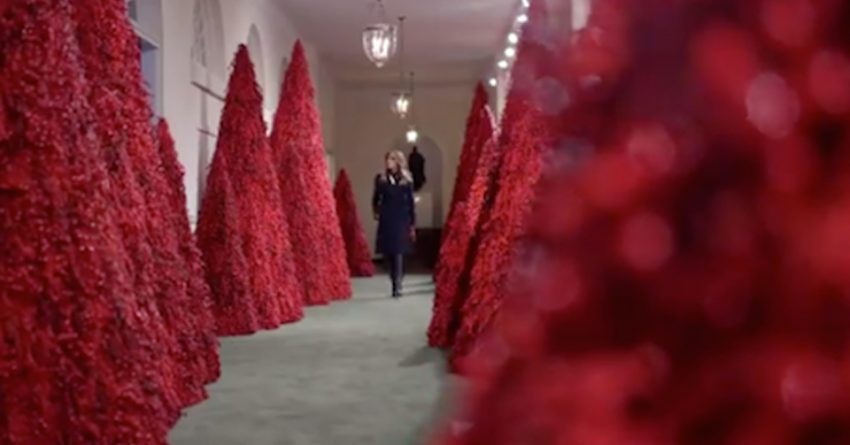 Melania Decorated The White House with Blood Red Trees & The Internet is Having a Field Day
Last year when First Lady Melania Trump unveiled the 2017 White House Christmas decorations people responded by comically poking fun at the 'creepy' Balsam fir tree lined hallway and this year is no different.
Just when we thought 2017's decorations couldn't be topped the White House revealed it's 2018 Christmas decorations featuring some very red trees that the internet has fondly dubbed the "Blood Trees".
The memes were swift and hilarious.
So it looks like @FLOTUS has chosen "dystopian nightmare" as her Xmas theme for the 2nd year in a row #MerryChristmas

2018 & 2017 pictured pic.twitter.com/4uRKZik8o7

— Mary-Catherine (@MaryCat1719) November 26, 2018
Somebody added little white hats to Melania's Blood Cones of Death (erm, I mean Christmas Trees) and I had to make a meme 😂#melaniasbloodconesofdeath #handmaidstale #auntlydia #blessedbethefruit pic.twitter.com/31VufUjAfs

— JesusOnTheInternet (@jesusontwit) November 27, 2018
The new White House Christmas decorations video is here, and this time Melania's installed a whole hallway full of… (checks notes)… blood trees? pic.twitter.com/UjOxnnqa7x

— William Bibbiani (@WilliamBibbiani) November 26, 2018
Kind of odd that the Christmas trees in the White House resemble The Imperial Royal Guards from Star Wars pic.twitter.com/oxVIXBdlUM

— Derek Heid (@TheDerekH) November 26, 2018
Those White House Christmas trees are something… pic.twitter.com/ePlzWRkljS

— Jay Adan 🔀 (@jayadan) November 27, 2018
The red trees defies description! pic.twitter.com/ciJjWOMCFB

— John Weinsheimer (@firebearfl) November 27, 2018
You can watch the full walk through of the White House 2018 Christmas Decorations here: