Bluenose Marathon weekend in #Halifax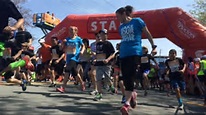 Good luck to all the participants! Sunshine and cooler temperatures should make for "perfect' run/walk conditions.
Events are planned for much of the weekend, but the bulk of the races are set for Saturday and Sunday.
To facilitate the race, the city will be closing streets in the area of Brunswick, Sackville, Prince, and Rainnie for most of the day Saturday, and part of the day Sunday.
Rolling closures and parking bans will also happen in parts of downtown Halifax on both days as well.
Most of the closures both days begin around 5 a.m. with some lasting well into the afternoon on both days.
-Denyse
Details: https://raceroster.com/events/2017/9054/scotiabank-blue-nose-marathon